What is proximity marketing?
September 19, 2019 in Marketing
Proximity Marketing, uses cellular technology to send marketing messages to mobile-device users who are in close vicinity to a business. It is highly relevant to marketers and customers in today's age as it is rapidly altering the familiar face of product promotion and campaigning and is poised to remain a strong pillar in the marketing realm.
---
Though, at its simplest, proximity marketing is the act of advertising to customers based on their location, marketers all over the world are now beginning to realize that there is more to proximity marketing than merely delivering vouchers and coupons. Proximity marketing tools work best when used to better understand the needs and wants of your customer base, as well as notable patterns in buying behaviour. In fact, when used properly, proximity marketing can even help you improve customer retention.
The mobile industry continues to scale rapidly, with global mobile subscriptions growing around 5% year-on-year. According to GSMA's The Mobile Economy report, an additional one billion subscribers are projected to get added to the total number of subscribers by 2020, taking the global penetration rate to approximately 60%. With mobile devices becoming a staple of present-day society and the leading way of accessing digital content, today, marketers need to understand how to connect successfully with their mobile consumers at the right place and at the right time. This is where proximity marketing comes into the picture.
Join over 1,000 companies that trust us.
Try it yourself free. No credit card required!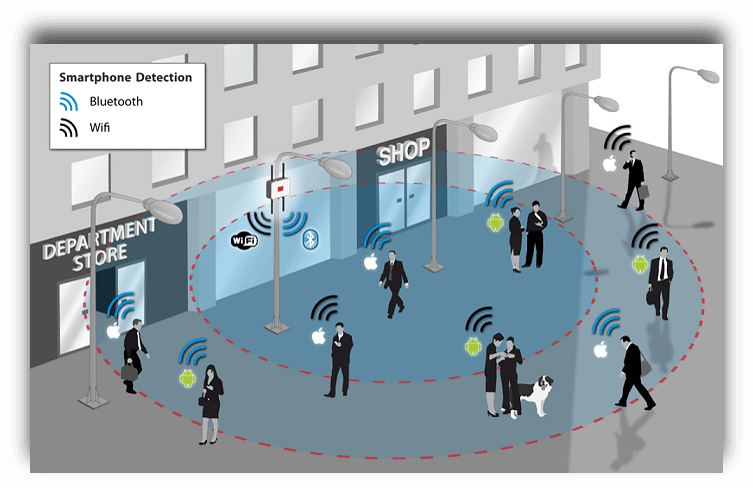 Why is proximity marketing the next big thing?
If you have not begun toying with the idea of investing in proximity marketing, then you should consider this as a wakeup call! Let's look at a few consumer and industry trends that highlight why investing in proximity marketing is the need of the hour.
Your competitors are already getting smarter by embracing proximity marketing

Whether you are willing to embrace proximity marketing for your business or not, your competitors are definitely going to. According to the Q1 2017 report by Proximity.directory, 75% of retailers in the U.S. are integrating proximity technologies into their marketing mix to increase operating profit. In fact, by using Bluetooth beacon technology, retailers can improve their position and increase operating profit by nearly 9% with an ROI of 175%, according to the report.

This rise of proximity marketing has some wide ranging benefits; the primary one being understanding customer browsing and buying patterns. Few of the other benefits that retailers saw in 2017 are:

71% were able to track and understand customer browsing and buying patterns
65% were able to target customers down to the aisle level
59% of customers were more engaged in the store
53% were able to create more relevant and compelling offers in the store
24% saw an increase in sales
24% saw an increase in offer redemption

So much so that, by 2020 the world will see 50 billion devices connected to the internet. Out of this 400 million will be beacons!

Your customers have already dedicated their attention to their phones

According to a recent report from InReality, a retail marketing and strategy firm, 75% of consumers use their mobile devices while shopping in stores. Thus, while you are busy fighting the retail battle against Amazon or other e-commerce giants out there, you are actually losing the attention battle to Instagram, Facebook and even email. The best way ahead is to reach out to your customers on the channel that is most personal to them - their smartphones. And while this may make you think that you need to push more Facebook posts or send more emails, chances are that your message is highly likely to get lost in a sea of never ending noise. This is where proximity marketing comes into the picture - beacons and geofencing allow you to deliver a relevant push notification to your custome's mobile screen at the exact moment, that calls for their attention.

Here are a few data points that all the more underline why proximity marketing is the best way ahead:

The average clickthrough rate (CTR) for beacon based push notifications can be as high as 80%, according to the data published by push notification technologist Kahuna.
The average clickthrough rate (CTR) for an email is 1% to 3%, according to a recent report by Mailchimp
The average clickthrough rate (CTR) for a Facebook ad is 0.119%, according to a recent Wordstream report

Although, companies such as Coca Cola that ran proximity campaigns through their own app have seen CTRs as high as 50-60%, most companies do not see such high CTRs. Typically the CTR of a beacon campaign in 10-12%, which is still 10 times the CTR of an email campaign and 100 times the CTR of Facebook ads.

The online world is fast coming offline

At the Digital-Life-Design (DLD) conference, Scott Galloway of NYU Stern stated that "brick and mortar stores are the new black in the world of e-commerce". He stated that going ahead, pure play e-commerce will not work, and that the future of commerce lies in an omni-channel strategy that blurs the online and offline worlds. This is one of the main reasons why pop-up stores have exploded and are currently fueling the retail revolution. In fact, according to PopUp Republic, the pop-up market has grown to become an industry worth approximately $10 billion in sales.
brick and mortar stores are the new black in the world of e-commerce.

NYU
Over the last decade, we have seen big retail brands, like Macy's, Coca-Cola and Procter & Gamble leverage various technologies such as Wi-Fi, NFC, Geofencing, Beacon technology, and GPS, to deliver hyper-local, contextual, and personalized messages to both existing and potential customers. Small businesses are often left wanting, due to the limited resources they have. But in the last few years we have seen a lot of small businesses adopt to beacon technology, given how easy and cost-effective it is.
The stats clearly imply that customers prefer proximity-based personalized shopping experiences and this will soon turn out to be a key differentiator among businesses. A great way to incorporate proximity into customer personalization is to leverage beacon and geofencing technologies.
Whats-OUT is a complete digital marketing platform and application that will help you start your proximity marketing campaigns with beacons and geofences.
Get started with proximity marketing now for free